About Us
Mission Statment
 "to promote and foster among its members a closer bond for the mutual benefit, and to promote and conserve the best interests and true spirit of the game of golf embodied in its ancient and honorable traditions".

SWGC was founded in 1997 to provide women a foundation for learning, practicing, and playing the game of golf in a welcoming environment. We organize weekly playdays, tournaments and member-guest events. We play 18 holes on both Championship golf courses, Bayonet and Blackhorse alternating each week. As a member, you will play at a reduced rate for green and cart fees on our play days.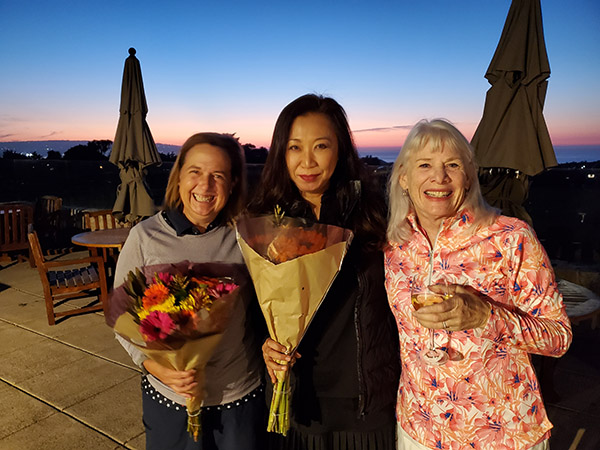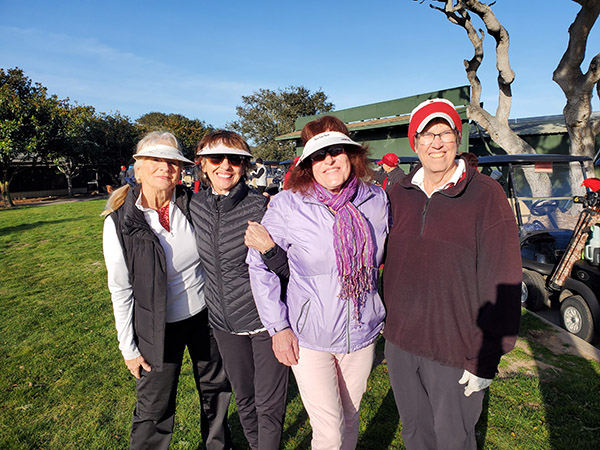 Membership
Memberships are available year-round. The annual fee entitles the member to a NCGA handicap and access to all events, including weekly play. The membership year is January to December; however, a prorated amount will be accessed for those joining in July or beyond. Each new member is required to serve as a starter and scorer three times during the year. This is necessary in order support our weekly playdays.

Members are responsible to be Starter or Scorer at least 3 play days a year. Please sign up in advance. Starter arrive by 7:45 am. Starter will check players in, collect sweeps and chip in money. Starter will be in the last group. There will be a Weekly sheet with game information. Scorer will be in the first group. At the end of play Scorer will collect score cards, record scores on weekly sheet. Awards will be verified and paid the following week
Membership Application
SWGC Dues $26.00
NCGA Dues $39.00
Total Membership Dues $65.00
Applicants that do not have an active GHIN must pay an additional NCGA fee of $10.00 for a total of $75.00 (after July 1st $62).

Make Checks Payable to Seaside Women's Golf Club
Mail To: Alice Drier 11600 Saddle Rd, Monterey CA 93940 mochigato@sbcglobal.net
Play Days
Play days: Tuesday Sign up
Our play day is scheduled each Tuesday at 8:30 am. Each week a different game is selected. Choosing to participate, you may buy into sweeps and/or the chip-in pot. Sweeps and chip-in contributions are for members only. Guests are welcomed on our play days.

If you want to play with us on Tuesday, send your name and whether you will be walking or riding to Jennifer Ferguson at Jenniferm57@att.net no later than Friday before 5pm.
Tournaments
Tournaments are scheduled throughout the year, including the Club Championship and a Partner Better Ball. In addition, we offer various formats including the Captains Cups (Solheim format), Eclectic and match play events. Two super guest days are also scheduled, yearly.
| | | | | | |
| --- | --- | --- | --- | --- | --- |
| MONTH | DATE | COURSE: Bayonet or Blackhorse | Game Type | Gross/Net | GAME / TOURNAMENT |
| January | 1/3/2023 | B | I | N | Even Holes 1/2 Hdcp |
| | 1/10/232 | BH | I | G,P,N | Gross, Putts, Net – EC #1 |
| | 1/17/2023 | B | I | N | Putts Only – Front, Back & Overall |
| | 1/24/2023 | BH | I | P | Gross, Putts, Net – EC #1 |
| | 1/31/2023 | B | I | N | IF – Change 1 Hole Score to Par, Full Hdcp |
| | | | | | |
| February | 2/7/2023 | BH | I | N | Best 9 – Choose Front or Back, 1/2 Hdcp |
| | 2/14/2023 | B | P | TBD | Valentines Day – Guest Day |
| | 2/21/2023 | BH | I | N | Tee to Green. Subtract Putts From Each Hole Score, 1/2 Hdcp |
| | 2/28/2023 | B | I | G,P,N | Gross, Putts, Net – EC #2 – RAIN OUT |
| | | | | | |
| March | 3/7/2023 | BH | I | N | 1 Day Match Play – Parings by Hdcp. |
| | 3/14/2023 | B | I | G,P,N | Gross, Putts, Net – EC #2 – RESCHEDULE FROM 2/28/2023 |
| | 3/21/2023 | BH | I | G,P,N | Gross, Putts, Net – EC #3 |
| | 3/28/2023 | B | P | N/A | Two Person Chapman Scotch – Non Postable Score |
| | | | | | |
| April | 4/4/2023 | BH | I | G & N | Stableford |
| | 4/11/2023 | B | I | G,P,N | Gross, Putts, Net – EC #4 |
| | 4/18/2023 | BH | P | N | Cha, Cha – Partner net game, 1 ball on odd holes, 2 balls on even holes. |
| | 4/25/2023 | B | I | N | Eenie Meanie – Chose 3-par 3's, 3-par 4's, 3-par 5's, 1/2 Hdcp |
| | | | | | |
| May | 5/2/2023 | BH | I | G,P,N | Gross, Putts, Net – EC #5 |
| | 5/9/2023 | B | I | N | Mutt & Jeff – Use All Par-5's & Par-3's and longest Par-4, 1/2 Hdcp |
| | 5/16/2023 | BH | P | N | BB Partner Round 1 |
| | 5/23/2023 | B | P | N | BB Partner Round 2 |
| | 5/30/2023 | B | I | G & N | Medal Play – Gross & Net by Flight |
| | | | | | |
| June | 6/6/232 | B | TBD | TBD | 2023 National Women's Golf Day |
| | 6/13/2023 | BH | I | N | Criers – Change 3 worst scores to par. Full Hdcp |
| | 6/20/2023 | B | I | G,P,N | Gross, Putts, Net – EC #6 |
| | 6/27/2023 | BH | I | N | OSEN – Use holes 1,6,7,8,9,11,16,17,18, 1/2 Hdcp |
| | | | | | |
| July | 7/4/2023 | B | T | N | Red, White & Blue – Team Game, 1 BB on Red Flags, 2BB on White, 3-BB on Blue Flags. |
| | 7/11/2023 | BH | I | G,P,N | Gross, Putts, Net – EC #7 |
| | 7/18/2023 | B | I | N | T & F, Use holes 2,3,4,5,10,12,13,14,15, 1/2 Hdcp |
| | 7/25/2023 | BH | I | N | Five & Four, Use first 5 holes, last 4 holes, 1/2 Hdcp |
| | | | | | |
| August | 8/1/2023 | B | P | N | Partner Stableford, 1 Best Ball |
| | 8/8/2023 | BH | I | G & N | Medal Play – Gross & Net by Flight |
| | 8/15/2023 | BH | I | N | Even Holes, 1/2 Hdcp. |
| | 8/22/2023 | B | I | G,P,N | Gross, Putts, Net – EC #8 |
| | 8/29/2023 | BH | T | N | Flo Ferris Memorial Tournament – 70 Players, 8:30 SG Start, Game TBD |
| | | | | | |
| September | 9/5/2023 | B | I | N | Eenie Meanie – Chose 3-par 3's, 3-par 4's, 3-par 5's, 1/2 Hdcp |
| | 9/12/2023 | BH | I | G,P,N | Gross, Putts, Net – EC #9 |
| | 9/19/2023 | B | T | N | Captains Cup |
| | 9/26/2023 | BH | T | N | Captains Cup |
| | | | | | |
| October | 10/3/2023 | NO GOLF | N/A | N/A | Helen Langfield – NCGA Tournament on Both Courses |
| | 10/10/2023 | BY | I | G & N | Club Championship Round 1 |
| | 10/17/2023 | BH | I | G & N | Club Championship Round 2 |
| | 10/24/2023 | BH | I | N | Criers – Change 3 Hole Score to Par – Full Hdcp |
| | 10/31/2023 | B | I | N | Best 9, 1/2 Hdcp |
| | | | | | |
| November | 11/7/2023 | BH | I | N | 1 Day Match Play – Parings by Hdcp. |
| | 11/14/2023 | B | I | G,P,N | Gross, Putts, Net – EC #10 |
| | 11/21/2023 | BH | TBD | TBD | Turkey Trot |
| | 11/28/2023 | B | I | N | Throw Out Three – Throw Out Three Worst Holes, Full Hdcp |
| | | | | | |
| December | 12/5/2023 | BH | I | G,P,N | Gross, Putts, Net (EC Make Up If Needed) |
| | 12/12/2023 | B | T | N | Holiday Shoot – Game TBD |
| | 12/19/2023 | BH | I | N | Odd Holes, 1/2 Hdcp |
| | 12/26/2023 | B | I | G & N | Medal Play – Gross & Net by Flight |